PATON ENJOYS FIRST GROUP ONE PLEASURE
PATON'S FILLY DELIVERS HIM WITH FIRST GROUP ONE SUCCESS AND PROVES SHEZA HOME GROWN STAR
Shepparton News
23 Oct 2020
By Gus Underwood
What a pleasure: Dennis and Shirley Paton with their Group One winning two-year-old trotter Sheza Pleasure.
Harston horseman Dennis Paton experienced his first Group One success in a lifetime in the industry when his young trotter Sheza Pleasure caused an upset to win the Aldebaran Park Vicbred Platinum Home Grown Classic for two-yearold trotting fillies at Melton on Saturday night.
Read more >
Trots Review: Moran and Lochinvar Art's Victoria Cup masterpiece
HRV - Michael Howard
10 OCT 2020
Last Updated 10 Oct 2020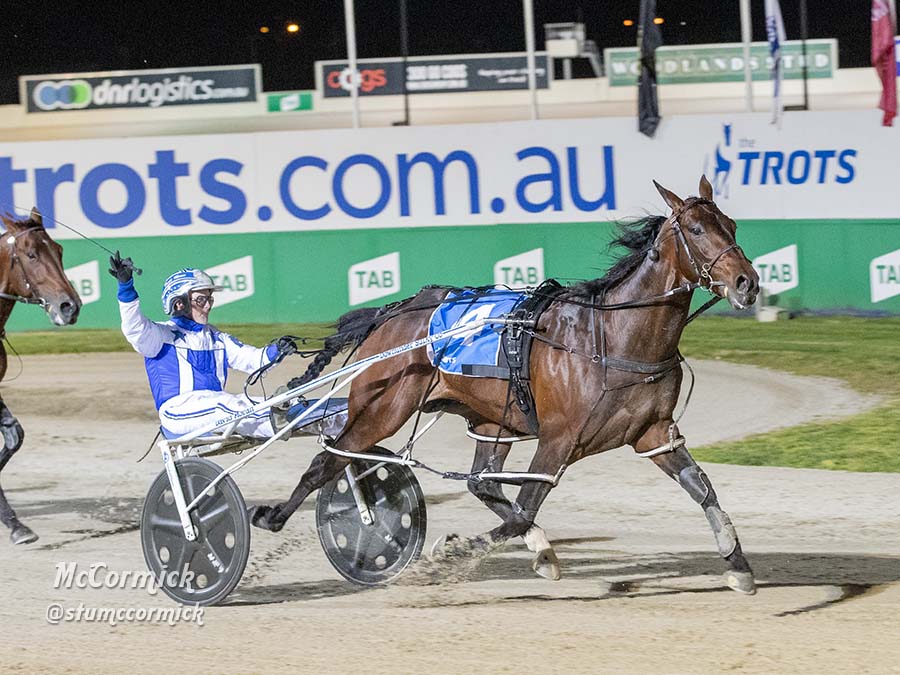 David Moran and Lochinvar Art took the best punches of Craig Cross and Luke McCarthy's extraordinary New South Wales team and answered every challenge to claim the Pryde's EasiFeed Victoria Cup.
Read more >
No shakin' Aiken's pacers
BOTH HONOLUA BAY AND BETTOR BE SORRY STAY UNBEATEN, AFTER WINNING AT BALLARAT AND MELTON
Shepparton News
9 Oct 2020
By Gus Underwood
In form: Josh Aiken.
Two exciting David Aikentrained pacers remain unbeaten for the stable after wins over the past week.
Read more >
AFTER A WINNING RETURN TO RACING, TRAINER DAVID MORAN SETS HIS SIGHTS ON THE FUTURE FOR LOCHINVAR ART
Back in the day: Chris Lang made a triumphant return to Shepparton last week.
Super Shepparton pacer Lochinvar Art is 'spot on' for his tilt at the $300,000 Victoria Cup next Saturday week after a successful return to metropolitan racing at Melton on Saturday night.
Read more >
Super pacer battle not on
LOCHINVAR ART PRIMED FOR $30,000 FREE-FOR-ALL, BUT RIVAL RIDE HIGH NOT A FINAL ACCEPTOR
Shepparton News
25 Sep 2020
By Gus Underwood
Rain-check: Lochinvar Art and trainer David Moran will no longer battle fellow superstar Ride High.
Read more >
LUCKY FOR A 13TH TIME
SHEPPARTON TRAINER HAS A SPRING IN HIS STEP AFTER DEBUTANT AND FORMER KIWI DELIVER GOODS
Shepparton News
18 Sep 2020
By Gus Underwood
That's our boy: Owners Pam and Stewart McDonald enjoyed another win with Hayjoshandco.
Read more >
Boy oh Boyington
BOYINGTON TEAMS UP WITH FRANKIE AND MAKES TRAINING-DRIVING DOUBLE A REALITY WITH WRITER
Shepparton News
11 Sep 2020
By Gus Underwood
Picture: Rodney Braithwaite
Steve Boyington — along with Frankie (left), his wife Colleen and Reality Writer — were up and about this week after snaring a double at Bendigo recently.
Read more >
That's one for an old mate
THOMSON-TRAINED PACER OVERCOMES A SCARE TO POST A SENTIMENTAL VICTORY AT SHEPPARTON
Shepparton News
4 Sep 2020
By Gus Underwood
Big night: Russ Thomson won with My Mate Col, a horse named after his good friend Colin Dixon, at Shepparton on Tuesday.
Well-named My Mate Col scored a popular and sentimental win on Tuesday night at Shepparton — but not without a big scare.
Read more >
Please support the Shepparton Harness Racing Club by becoming a member or renewing your membership now.
/dreamcms/webroot/files/files/Membership_Application_202021.pdf
Read more >
Infection pulls up star Art
MORAN CONFIDENT LOCHINVAR CAN BOUNCE BACK TO BEST AFTER BEING BEATEN SUFFERING A VIRUS
Shepparton News
14 Aug 2020
By Gus Underwood
Good times: Carmel Belot and Levina posted another victory at Echuca last week.
Shepparton trainer-driver David Moran is confident his stable star Lochinvar Art can come back as potent as ever despite Saturday night's hiccup at Ballarat.
Read more >
Sit back and enjoy the Ride
BALLARAT-TRAINED STAR READY TO SIZZLE AROUND SHEPPARTON ON A COLD WINTER'S NIGHT
Shepparton News
14 Aug 2020
By Michael Howard
Picture: Stuart McCormick
Star showing: Ride High, driven by Kima Frenning, will race at Shepparton tomorrow night.
Ride High's waltz into rare air is expected to continue at Shepparton tomorrow night, with the speed freak tipped to build on his already enormous reputation and notch a 10thstraight victory.
The horse, who's nicknamed "Chainsaw" and become renowned as "the Ballarat Beast", steps out at 6.05 pm in the Neatline Homes Pace, where he's likely to be a short $1.04 favourite amid a six-horse field.
While tomorrow night won't gift sports fans the coveted match-up between Ride High and Victoria's fastest ever pacer Lochinvar Art, with the Sheppartontrained star recovering from a minor viral infection, entertainment is guaranteed if Ride High's most recent performances are any gauge.
Read more >
MORAN MORE THAN HAPPY WITH HIS BOY ART
RIDE HIGH MAKES MORAN SIT UP AND TAKE NOTICE, BUT HE'S HAPPY WITH HIS STAR LOCHINVAR ART
Shepparton News
7 Aug 2020
By Gus Underwood
Lochinvar Art's Shepparton trainer-driver David Moran says you couldn't help but be impressed with Ride High's stunning track record run last Saturday night at Bendigo.
But he won't be deliberately dodging the Clayton Tonkintrained superstar pacer with his outstanding pacer.
''We could be racing against each other at the Shepparton meeting next Saturday night week (August 21),'' Moran said this week.
''I've had that race in mind with Lochinvar Art for his next outing and they are looking at it too with Ride High I've been told.''
But Moran said he had heard nothing more on a recently mooted match race between the two superstar pacers.
At Bendigo last Saturday night Ride High put in a dazzling track record shattering 1:49.0 performance after sitting in the death seat for the last lap.
He lopped a whopping 2.07 seconds off the track record for the 1690 m trip of 1:51.7 established on June 6 by the David Aiken-trained Leonidis.
Lochinvar Art returned to racing at Shepparton on July 25 when he accounted for the Aiken-trained Sirletic, the same pacer Ride High beat at Bendigo.
Read more >
TROTS FANS WERE SERVED UP A REAL TREAT
MORAN AND ALFORD-TRAINED STARS PUT ON A SHOW FOR PUNTERS AND FANS WITH IMPRESSIVE VICTORIES
Shepparton News
31 Jul 2020
By Gus Underwood
Rockstar return: Lochinvar Art was extremely impressive first up at Shepparton on Saturday for his trainer-driver David Moran.
Sky Channel watchers were treated to a double whammy of exciting horse f lesh last Saturday night at Shepparton.
Read more >
A FIRST FOR VETERAN MARE AND TRAINER
AGED MARE BREAKS HER DUCK IN FINE FASHION AND GIVES TRAINER HIS FIRST SUCCESS IN VICTORIA
Shepparton News
17 Jul 2020
By Gus Underwood
One to remember: Trainer Paul Fidge with eight-year-old mare Wandanas Advice who gave him his first Victorian win at Shepparton last Friday.
Read more >
Cobram loses its saviour
WATSON PULLED CLUB UP BY ITS BOOTSTRAPS TO SAVE ITS BACON AND IMPLEMENTED GREAT RACE DAYS
Shepparton News
12 Jun 2020
By Gus Underwood
Innovative: Bob Watson (left) and his wife Marg Watson, with Bruce Phillips.
Cobram Harness Racing Club — and harness racing in general — will be forever grateful to Bob Watson.
Read more >
Trio's tremendous Tuesday
AIKENS AND TURNBULL HAVE A NIGHT OUT WITH DOUBLES DOMINATING PROGRAM AT SHEPPARTON
Shepparton News
5 Jun 2020
By Gus Underwood
Picture: Barry Bennett
Winning ways: Craig and Abbey Turnbull combined for success with Oursouthernstar at Shepparton on Tuesday night.
Read more >
Joy playing away from home
DUFFY-TRAINED MARE TAKES HER TALENT TO BENDIGO TO UPSTAGE RIVALS AFTER ZONES MERGE
Shepparton News
29 May 2020
By Gus Underwood
Picture: Barry Bennett
Going great guns: Millah Joy, pictured winning at Shepparton, won her second race for trainer Steve Duffy at Bendigo on Monday night.
Read more >
No getting Nutt-ed on line
ROYCE HAS A GAYE OLD TIME CELEBRATING HIS FIRST WIN IN 20 YEARS BY HIMSELF WITH A WHISKY
Rolls Royce: Reinsman Royce Nutt (left) and trainer Gary Merkel with Nutt's first winner for 20 years, Roslyn Gaye.
Read more >
ARDMONA RIDES HOME BEHINDS TO VICTORY MURRAY LEAGUE PRODUCES CRACKERS MAGIC OF GAVIN
AUSTRALIA'S CHAMPION REINSMAN THE ICEMAN AND CLAUDYS PRINCESS TOOK SYNDICATE ON ONE GREAT RIDE
Shepparton News
27 Apr 2020
The death of champion trots driver Gavin Lang on Friday has brought back plenty of memories for Kyabram's Gus Underwood. Underwood, who has been The News' trots writer for more than 50 years, and Josh Pell bred the top racemare Claudys Princess, who put Kyabram and the Goulburn Valley on the Australian harness racing map a few years ago when, through her racetrack deeds, she was awarded Australia's top female trotter award for three consecutive years — as a two, three and four-year-old. Raced by the Catchya syndicate Claudys Princess was driven to 21 of her 22 wins by Lang. After some uncanny circumstances leading up to Lang's death on Friday Underwood has written this tribute to the man they called The Iceman. A fruitful partnership: Gavin Lang aboard Claudys Princess.
Read more >
He's casting large Shadow
PROMISING PACER CHEVRON MAKES IT A HAT-TRICK OF VICTORIES WITH A STRONG WIN AT SHEPPARTON
Shepparton News
17 Apr 2020
By Gus Underwood
Flying: Shepparton trainer-driver Laura Crossland drove Shadow Chevron to his third straight win on Sunday.
Read more >
He has mooovie star looks
THIS BOY IS NAMED HOLSTEIN, BUT HE'S CERTAINLY NO COW AFTER GIVING RIVALS A START AND A BEATING
Shepparton News
10 Apr 2020
By Gus Underwood
Picture: Geoff Durn
Read more >
MORE TROTS MEETINGS FOR SHEPPARTON
SHEPPARTON TO HAVE SIX MORE MEETINGS THIS MONTH AFTER RULING BODY BRINGS IN NEW MEASURES
Shepparton News
3 Apr 2020
By Gus Underwood
I've got money in my pocket: Shepparton trainer Russell Jack trained a winning double at Bendigo on Tuesday night.
Read more >
Moran keen to wear Crown
SHEPPARTON TRAINER HAS A BIG CHANCE OF STRIKING GOLD AT BATHURST, BUT IS DOUBTFUL OF DRIVING IT
Shepparton News
27 Mar 2020
By Gus Underwood
Out to reign: David Moran, pictured with his superstar Lochinvar Art, will be striving for Gold Crown glory at Bathurst tomorrow night with Lochinvar Chief.
Read more >
Trials
Read more >
Still more riches to plunder
MORAN SETS SIGHTS ON WAGGA BEFORE PLANNING A RAID ON BRISBANE FEATURES WITH STABLE STAR
Shepparton News
13 Mar 2020
By Gus Underwood
Riches raider: Cobram Cup champion Lochinvar Art has more fish to fry for his trainer-driver David Moran this campaign.
Read more >
Read more >
Jack to attack in defence
AIKEN HEADS TO MELTON HOPING TO HAMMER RIVALS IN AUSTRALIAN TROTTING GRAND PRIX
Shepparton News
28 Feb 2020
By Gus Underwood
Picture: Stuart McCormick
Grand campaigner: Big Jack Hammer, pictured winning last year's Australian Trotting Grand Prix, will out to defend his crown tomorrow night.
Northern Victorian trainers and drivers will be chasing Group One glory at tomorrow night's alltrotters mega meeting at Melton.
Read more >
A desire to embrace Fire
AIKEN AND MORAN WILL HARNESS THEIR STARS TO CHARIOTS IN BIDS TO CAPTURE CLASSIC FEATURE
Shepparton News
21 Feb 2020
By Gus Underwood
Picture: Stacey Lear
Let's go boy: Todd McCarthy and Max Delight will contest the Chariots Of Fire tomorrow night.
Two Goulburn Valley-trained pacers are among the key players in tomorrow night's $200 000 Chariots Of Fire at Menangle.
Avenel trainer David Aiken has Max Delight coming from barrier two and Shepparton horseman David Moran will line up his star Lochinvar Art from barrier three in a showdown between Australia's and New Zealand's premier fouryear-old pacers.
Read more >
MORAN TO UNLEASH BEAST AT MELTON
MORAN PREPARES TO LET HIS STAR PACER RIP AT MELTON IN TUNE-UP FOR CHARIOTS OF FIRE AT MENANGLE
Shepparton News
14 Feb 2020
By Gus Underwood
Loch in top gear: Trainer-driver David Moran is set to give Lochinvar Art a solid run at Melton tomorrow night.
Emerging Shepparton superstar pacer Lochinvar Art will have what his trainer-driver David Moran describes as a good blow out at tonight's Melton meeting in preparation for his tilt at the Chariots Of Fire at Menangle the following weekend.
Read more >
'Sicario the horse to beat'
ECHUCA PACING CUP BOASTS TALENTED FIELD
Shepparton News
7 Feb 2020
By Gus Underwood
In the mix: Brallos Pass is contesting tonight's Moama Bowling Club Echuca Pacing Cup.
Talented pacers Sicario and Brallos Pass headline a talented field of pacers in tonight's 42nd running of the Moama Bowling Club Echuca Pacing Cup.
Read more >
WINNING FEELING
SHEPPARTON-TRAINED PACERS DELIVER THE GOODS IN PRESTIGIOUS RACES DURING BIG WEEKEND ON TRACK
Shepparton News
27 Jan 2020
By GUS UNDERWOOD
Read more >
Moran has Art in mouth
NERVOUS MOMENTS BEFORE START DON'T HELP SHEPPARTON STAR'S CAUSE IN HIS BID TO WIN CUP
Shepparton News
17 Jan 2020
By Gus Underwood
Picture: Megan Fisher
Big Mamas house: Mamas Gold Charm was the first leg of a winning training double at Shepparton for Laura Crossland.
Lochinvar Art's hard luck story in the Shepparton Gold Cup could have been a lot worse.
Read more >
Maggs wheels are spinning
EUROA HORSEMAN HAS A COUPLE OF DAYS TO REMEMBER IN CART DRIVING FOUR WINNERS IN SUCCESSION
Shepparton News
10 Jan 2020
By Gus Underwood
Picture: Cobram Harness Racing Club
When you're hot: Cameron Maggs steers Scorcha to a brilliant debut victory at a smoky Cobram.
It didn't equal or better Damian Wilson's New Year's feat at Albury of driving five winners from five drives, but it came close.
Euroa horseman Cameron Maggs took three pacers on a four-hour trip to Temora last Saturday night — and they all won.
But there is more.
Maggs then bobbed up in the first race at Cobram on Sunday and was successful again.
Four drives, four winners — all in succession.
Read more >
Ah, ha, ha, ha, stayin' a five
WILSON HAS GOOD REASON TO JIVE AFTER RACKING UP PERFECT STRIKE RATE AT ALBURY WITH QUINTET OF WINS
Shepparton News
3 Jan 2020
By Gus Underwood
Picture: Rodney Braithwaite
At the double: Shepparton trainer Dave Farrar with his winning Albury double, Hayjoshandco and National Draft, who were part of reinsman Damien Wilson's five winners at the meeting.
Read more >
Black type beside names
GOULBURN VALLEY TROTTERS MISS OUT ON THE FAT CHEQUE IN GROUP ONES, BUT SHOW CLASS IN PLACING
Shepparton News
27 Dec 2019
By Gus Underwood
There were no major wins, but Goulburn Valley-trained trotters were in the minor money in Group One features at Melton last Saturday night.
Arcadia horseman Patrick Ryan produced the royally-bred Right Moves for a second placing in the Aldebaran Classic for three-yearold fillies, while in the colts and geldings final Kyabram trainer Brent Thomson got a bold showing from his long shot Builder Bob, who finished third.
Read more >
Read more >
Alert Vigilant gets Hyper
BARCA HAS SMILE ON DIAL AS HIS PACER FINDS SOME ZEST AND HAS A SPRING IN STEP AT SWAN HILL
Shepparton News
20 Dec 2019
By Gus Underwood
Read more >
San Carlo has task of shooting down Sniper
Shepparton News
13 Dec 2019
By Gus Underwood
The big race draw curse has struck Shepparton-trained pacer San Carlo again with the nine-year-old warhorse coming up with a second row draw for tomorrow night's $750 000 Inter Dominion final in Auckland.
Read more >
LEGEND IS GOING STRONG
SHEPPARTON HARNESS RACING LEGEND EDDIE WALSH STILL GOING STRONG AT 90
Shepparton News
14 Dec 2019
By Aydin Payne
Read more >
Read more >
Flat Carlo set to buck up
O'DONOGHUE EXPECTS HIS STABLE STAR TO BOUNCE BACK FOR INTER DOMINION AFTER FAILING IN CUP
Picture: Shepparton Harness Racing Club
Finally: Connections of Western Crisis soak up his first victory with driver Chris Alford after Western Crisis broke his duck at his 16th start.
Read more >
Write him off at your peril
SAN CARLO DOESN'T HAVE BEST OF LUCK IN TROTTING CUP, BUT HE CAN BOUNCE BACK IN INTER DOMINION
Shepparton News
15 Nov 2019
By Gus Underwood
Picture: Cobram Harness Racing Club
Outstanding achievement: Andrew Robinson, Debbie Youngson and Carolyn McCrae were quick to congratulate reinsman Damian Wilson and owners Norm and Joan Visca on winning the Cliff Robinson Memorial Trot.
Read more >
COBRAM EARNS GONGS
CHANCE TO SEE SAN CARLO WORK BEFORE HE HEADS OFF TO CONQUER LAND OF GREAT WHITE CLOUD
Shepparton News
1 Nov 2019
By Gus Underwood
Chuffed: Cobram Harness Racing Club president Charles Ewert and Margaret Watson show off the trophies won at the Trots Country Victoria Awards night.
Northern Victorian trots fans will get their last chance to see star local pacer San Carlo before he embarks on his New Zealand campaign in action at tonight's Shepparton meeting.
Read more >