McDONALDS HAVING A GREAT TIME AT RACES AND AT BENDIGO THEIR HORSE AGAIN DIDN'T BARKER UP WRONG TREE
Shepparton-trained pacer Hayjoshandco is giving Congupna owners Stewart and Pam McDonald an enjoyable ride at the moment.
Read more >
Flexing Muscles in Fling Rathjen recalled
RYAN AND DUFFY LINE UP THEIR PROMISING YOUNG TROTTERS IN A BID TO CAPTURE NSW DERBY HONOURS
Plenty of district interest in tomorrow night's NSW Trotters Derby with two Shepparton trained aspirants contesting the $40 000 Group Two event at Menangle.
In the red corner: Laura Crossland and David Moran enjoyed success with The Brooklyn Brawler last Sunday.
Arcadia horseman Patrick Ryan has the promising All The Muscles coming from a poleline draw in the event, while Shepparton horseman Steve Duffy will line-up the talented Flingandwingit from barrier seven.
Read more >
Mac up Square dancing
JACKSON TAKES OUT A THRILLER OF SHEPPARTON TROTTERS CUP TO SHOW THERE'S A GOOD GENE POOLE
Veteran Stanhope breeder-owner Mac Poole experienced one of his biggest thrills in harness racing when his smart trotter Jackson Square caused an upset win in last Friday night's Saddleworld Shepparton Trotters Cup.
The Mick Blackmore-trained fiveyear-old son of Bacardi Lindy, driven by John Caldow, was a 28/1 shot and finished too strongly for the third favourite Destinee Jenilou and the favourite Il Parata in the $25 000 2690 m Group Two marathon.
Caldow tucked Jackson Square away three back on the pegs in the run and once he got the five-yearold into free running on the home bend he was too strong at the finish for his for his more fancied rivals.
Read more >
Old mates enjoy their dates
BARTLEY AND HER BIG BOYFRIEND HAVE A DAY OUT AT WARRAGUL, CRUISING AROUND TRACK TO WIN CUP
Read more >
Read more >
It's finally a masterpiece
FINAL BRUSH STROKE HAS BEEN APPLIED TO MORAN-CROSSLAND'S LOCHINVAR ART WITH GROUP ONE FLOURISH
If ever a pacer deserved a Group One win it was the one Shepparton-trained three-year-old Lochinvar Art finally achieved at Bathurst last Friday night.
Impact made: Harness racing has lost one of its pioneers Margaret Davies who died last week.
Read more >
The apples of Aiken's eye
SHELBY BROMAC AND MAX DELIGHT MAKE IT A WONDERFUL NIGHT DOWN ON THE ISLE FOR AVENEL TRAINER
Read more >
Star drawn way Art there
GOULBURN VALLEY TRAINERS AND THEIR GUNS AFTER GROUP ONE GLORY ON MENANGLE'S BIGGEST NIGHT
Goulburn Valley-trained pacers have again come up with visitors' draws at tomorrow night's mega Miracle Mile meeting at Menangle.
The Little Master: Legendary reinsman Brian Gath was seen at his best on Sunday at Gunbower winning on Repeat After Me.
Read more >
Have you heard the one about the horse at the bar?
"Cadel", with owner Kerrie Lee, sidles up to the bar to meet a fan
Photo courtesy Kerrie Lee
Read more >
Making Menangle raids
All harness racing eyes will be on Menangle tomorrow night when heats of the NSW Derby and NSW Oaks and two Group One Miracle Mile qualifiers feature on a starstudded program. More....
Read more >
Read more >
Young stars light up track
HURRICANE HARLEY AND LOCHINVAR ART LOCK HORNS IN A BRILLIANT TWO-HORSE WAR AT SHEPPARTON
The much-anticipated clash between two of Australia's top three-year-olds was the undoubted highlight of Shepparton Harness Racing Club's meeting on Wednesday night — and it disappointed no-one.
Picture: Andrew Mole
Buster the beast: Buster Brady and trainer-driver Kima Frenning smash their rivals in the Echuca Pacing Cup.
Read more >
Brady bunch can increase
ECHUCA CUP NEXT COUNTRY FEATURE ON BUSTER'S RADAR AFTER ALREADY SALUTING AT GEELONG, COBRAM
Only bad luck can cost talented pacer Buster Brady his third Victorian country cups win tonight.
Lethal combination: Kima Frenning, pictured right holding last year's Shepparton Gold Cup,
Read more >
https://www.thetrots.com.au/racing/live-trots-vision/
Read more >
Derby draw favours Kiwi
BUT AIKEN PAIR AND CROSSLAND RUNNER HAVE WORK CUT OUT FROM TRICKY BARRIERS IN GROUP ONE
Read more >
CROSSLAND'S YOUNG STAR ONCE AGAIN CRUELLED BY GATE AS TRITTONS MUSCLE UP IN DERBY HEAT
Shepparton Harness Racing Club's reigning Trainer of the Year Laura Crossland has again come off second best with her star youngster Lochinvar Art in the draw for the Victoria Derby heats at Ballarat tomorrow night.
Picture: Shepparton Harness Racing ClubLots of delight: Danny Frawley along with the connections of Im Pats Delight and reinsman Gavin Lang take it all in after winning the Shepparton Gold Cup.
Read more >
Read more >
http://www.sh19.seniorstennis.org/
Read more >
Don's close View at glory
SHEPPARTON'S DUCAT ALMOST LANDED MASSIVE BET ON HIS MARE WINNING 1967 INTER DOMINION FINAL
The late Don Ducat could have been forgiven for being a little nervous as he climbed into the sulky at Perth's Gloucester Park in 1967 to drive Goulburn View in the final of the Inter Dominion Pacing Championship.
Picture: Rodney BraithwaiteVal and Geoff Hill with the 1966 Sunraysia Racing Cup. Val's father Don Ducat took out the race with Goulburn View, earning the mare entry into the 1967 Inter Dominion Pacing Championship, where she ran third in the final.
Read more >
Not losing sleep about it
O'DONOGHUE ISN'T STRESSING ABOUT STAR SAN CARLO'S TRICKY BARRIER AHEAD OF INTER DOMINION TILT
Shepparton trainer Steve O'Donoghue admits he never stresses about barrier draws and that will be the case again when his star pacer San Carlo tackles the first round heats of the Inter Dominion Pacing Championship at Melton tomorrow night.
Going well: Zuberi, trained by Col Duncan, brought up his ninth win at Shepparton last week.
Read more >
Swede can Buster move
FRENNING SHOWS SHE CAN DO IT ALL BY PRODUCING FORMER KIWI PACER TO WIN FIRST RACE AS A TRAINER
Kima Frenning ticked off another first in her blossoming harness racing career at last Saturday night's tri-code meeting at Cranbourne.
Another first: Kima Frenning (centre) trained her first winner, Buster Brady, at Cranbourne on Saturday night.
Read more >
Sky is the limit in cups
CARLO MONSTERS WAY TO VICTORY, WHILE PETITE LEAVES RIVALS FLOUNDERING IN VALLEY FEATURES
Picture: Stuart McCormickMonster mash: Star Shepparton-trained pacer San Carlo is now a $6 pop to win the Inter Dominion after mauling his rivals in the Yarra Valley Pacers' Cup.
Read more >
Read more >
Carlo San-sational in cup
SHEPPARTON-TRAINED STAR PUTS NAME UP WITH LEGENDS WITH BRILLIANT AND TOUGH CRANBOURNE VICTORY
Garry Rowan, Gammalite, Paleface Adios, Koala King, Master Musician, Golden Reign, Tailamade Lombo, Im Themightyquinn and Mr Feelgood.
Picture: Stuart McCormack
One of the greats: San Carlo, driven by Rebecca Bartley, has joined an illustrious club with his Cranbourne Cup win.
All legendary names in Australian harness racing through the ages.
And all Cranbourne Pacing Cup winners.
After last Saturday night, Shepparton-trained pacer San Carlo can be added to that illustrious list.
Read more >
District awards domination
REGIONAL INDUSTRY PARTICIPANTS AND HORSES SWEEP ALL BEFORE THEM AT HRV'S BIG NIGHT
Goulburn Valley administrators, owners, breeders, trainers, drivers and horses were well to the fore at the Gordon Rothacker Medal night at Melbourne's Crown Casino last Sunday night when Harness Racing Victoria honoured its high achievers for the 2017-18 season.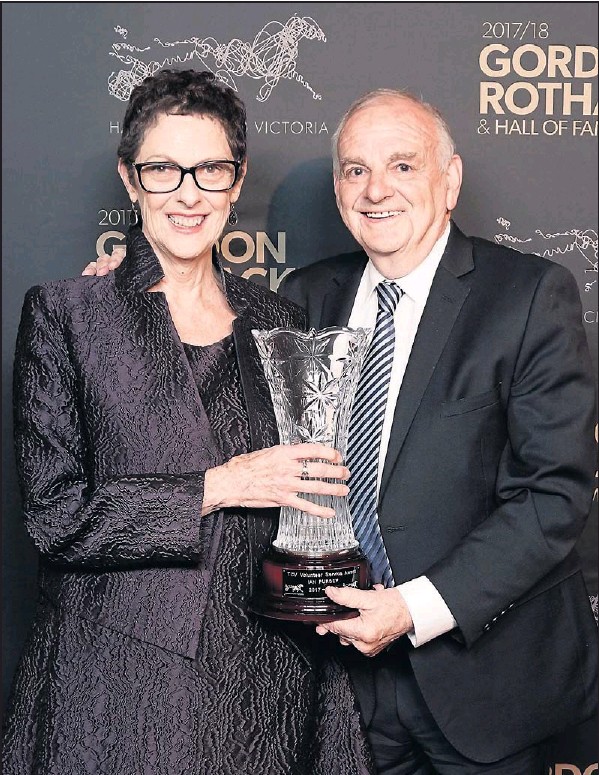 Picture: Emmanuel MbalaStarring role: Ian Purdey shows off his award with his wife Julie on Sunday at the Gordon Rothacker Medal night.
Read more >
Neigh, water walk this way
BUNFIELD DELIGHTED AS CHANGE OF TRAINING REGIME FOR HIS CHARGES CONTINUES TO DELIVER RESULTS
Brett Bunfield is one of a growing band of trainers who is putting a lot of faith and trust in water walkers to stimulate and condition horses during their racing preparations.
Horse paddle: Merrigum trainer Brett Bunfield is pleased with the results of his water walker.
Read more >
Out to wrap up Victoria Cup
AIKEN WOULD TAKE GREAT DELIGHT IF HE CAN BE THE BOSS AT FINISH OF FEATURE EVENT AT MELTON
Old boys club: Veterans Brian King and Kains Boy combined for yet another win last week at Echuca.
Read more >
Top stallions are in town
LEADING SIRES AVAILABLE TO DISTRICT BREEDERS AS THEY TAKE UP RESIDENCE AT GV EQUINE CENTRE
A USA Two-Year-Old Pacing Colt of the Year, a millionaire racehorse and sire and a son of a leading percentage sire are three bargain-priced stallions available to breeders in the Goulburn Valley for the first time this season.
Stunning stud: Leading sire Major In Art is now standing in Shepparton at the GV Equine Centre.
Read more >
LAURISTON BLOODSTOCK IS ON THE HUNT FOR SOMEONE TO RUN ITS LEADING BREEDING ESTABLISHMENT
One of Australia's leading standardbred breeding establishments is seeking a new farm manager.
Read more >
Smokin it up at Leeton
Read more >
Read more >
Read more >
Read more >
Purd no longer the word
KYABRAM TROTTING CLUB FAREWELLS ITS ONE CONSTANT OF THE PAST 50 YEARS IAN PURDEY
Read more >
Jack and four of a kind
STAR SHEPPARTON REINSMAN STRIKES ON FIRST DAY OF REDWOOD CARNIVAL WITH A QUARTET OF WINS
Goulburn Valley trainers and drivers were well to the fore on the opening day of the alltrotters Redwood Carnival last Friday.
See ya mate: Ian Purdey (left), pictured with Greg Caldwell and John Roberts, will be farewelled by the Kyabram Trotting Club on Sunday after almost 50 years of service with club.
Shepparton horseman Nathan Jack was the star of the day with four winners.
Read more >
Join the race for top food and wine
The Shepparton Harness Racing Centre will be filled to the brim with food and wine for all palates this weekend.
Pictures: Megan Fisher
Great brew: Leanne McGorum, from Coffee Mobile, will be on hand to provide the caffeine needs.
The Shepparton Food and Wine Expo will feature 73 different vendors and four special guests as part of Victoria's Small Business Festival.
An event spokesperson said there would be good representation from local businesses with about 20 vendors coming from Greater Shepparton.
Read more >
Lexus Melbourne Cup Tour
All harness racing supporters and friends should note this important event for Shepparton.
The harness club is thrilled to announce that the Lexus Melbourne Cup Tour has included the Shepparton Trots meeting on Friday 3rd August.
Read more >
Out to be a Southern star Where Art thou Tatlow
GOULBURN VALLEY RUNNERS ANIMAL, YOUNG ROOSTER AND SAPHIRIQUE WON'T BE MUPPETS IN FEATURES
Goulburn Valley horsemen Nathan Jack and Brett Bunfield will be in the spotlight tomorrow night at Globe Derby Park in South Australia.
On a hot trot: Laura Crossland's team is on fire and her stable star captured the Tatlow Stakes at Melton on Saturday.
Read more >
Mixed Stock Sale Results


Read more >
Super Delight, that's a wrap
GOULBURN VALLEY TRAINERS AND DRIVERS RETURN HOME FROM BIG NIGHTS AT MELTON WITH GROUP ONE GLORY
David Aiken, Kima Frenning, Mark Pitt and Nathan Jack flew the flag for northern Victorian trainers and drivers at last weekend's Vicbred Super Series finals at Melton.
On pacers finals night the Aiken-prepared Wrappers Delight was driven to victory in the four-year-old geldings and entires final by Frenning in her most significant win in the sulky.
Read more >
Be prepared early, click here to access your bidder registration form for the Mixed Stock Sale this Sunday.
/dreamcms/webroot/files/files/BUYER REGISTRATION(1).pdf
Read more >
The 2018 Mixed Stock Sale can be viewed here.
Read more >
A big grin from ear to ear
ABBEY CELEBRATES SECOND WIN AFTER STEERING SPUNKYOLA TO VICTORY AT MARYBOROUGH FOR HER DAD
Abbey Turnbull was full of smiles after race seven at Maryborough last week. And she had every reason. The 19-year-old had just driven Spunkyola to victory in a C1 Only class race to bring up her second win in the sulky.
Strong bond: Abbey Turnbull with her Maryborough winner Spunkyola.
Read more >
2018 Mixed Stock Sale Lots with Pedigrees
Read more >
Loch in birthday present
CROSSLAND HOPING TO CAP PERSONAL OCCASION WITH WIN IN BREEDERS CHALLENGE FINAL AT MENANGLE
Shepparton pacer Lochinvar Art has drawn barrier four in the rich Alabar Breeders Challenge series final for two-year-old colts and geldings at Menangle on Sunday next week after a dominant semi-final last weekend.
Keeping it in house: Shepparton trainer Steve O'Donoghue had a Yarra Valley winner, Molly Pippin, out of his successful Morley Park Stud stallion Bacardi Lindy.
Read more >
Another one to Cross off
LOCHINVAR ART DELIVERS CROSSLAND FEATURE SUCCESS AT MELTON TO CONTINUE STABLE'S HOT SEASON
Shepparton horsewoman Laura Crossland's big season continued when highly promising youngster Lochinvar Art claimed the Benstud Youthful Stakes at Melton last Friday night.
Let the good times roll: Shepparton horsewoman Laura Crossland has 42 wins for the season to be in the top 10 in the Victorian trainers premiership.
Read more >
Shez gone, that's the Pitt-s
SHEPPARTON TRAINER-DRIVER TOLD CHAMPION THREE-YEAR-OLD FILLY WON'T BE RETURNING TO HIS CARE
Brilliant pacing filly Shez All Rock will not be returning to the Shepparton stables of Mark Pitt after her history-making win at the Harness Jewels meeting in New Zealand last Saturday.
Picture: Stuart McCormick
Lost to Purdon: Shez All Rock won't be coming back to Mark Pitt's stable after a successful trip to New Zealand, instead remaining with Mark Purdon.
Read more >
FROM HUMBLE BEGINNINGS O'DONOGHUE YOUNGSTER SURPRISES ALL AS HE BLOSSOMS INTO A YOUNG STAR
Shepparton trainer Steve O'Donoghue says it's a bit early yet to be judging just how far the exciting three-year-old he prepares, Wayonbye, will go.
Glittering: Rebellin Ruby broke through for her third win when she scored at Shepparton last week for Mark Lee.
Read more >
The listing for the 2018 Shepparton Mixed Stock Sale has been finalised. Pedigrees will be added as they become available.
Read more >