HORSE OF YEAR HONOUR FOR CHAMPION
SHEPPARTON-TRAINED CHAMPION CAPS BRILLIANT SEASON WITH VICTORIAN HORSE OF THE YEAR HONOUR
Shepparton News
30 Jul 2021
By Gus Underwood
Picture: Stuart McCormick/Harness Racing Victoria
He's the man: Lochinvar Art, trained and driven by David Moran, pictured after winning the Vicbred Super Series final, has won the Victorian Horse of the Year award.
Read more >
Creating a bit of pub talk
LOCHINVAR ART'S SHOES TO GIVE PUNTERS SOMETHING TO CHAT ABOUT OVER A DRINK AT ROYAL MAIL
Shepparton News
23 Jul 2021
By Gus Underwood
Shepparton trots tragic John Scott reckons history should be preserved and that's why Mooroopna's Royal Mail Hotel is now boasting a splendid trophy to honour champion pacer Lochinvar Art.
Read more >
Jean has James jumping
HOME-BRED MARE SALUTES AT SHEPPARTON TO PUT A SMILE ON OCTOGENARIAN BYRNE'S FACE
Shepparton News
2 Jul 2021
By Gus Underwood
Picture: Barry Bennett
Winning combination: Craig and Abbey Turnbull enjoyed success with No Nay Never at Melton on Tuesday night and had a luckless second with Life Gets Better.
Read more >
VETERANS PROVE YOU'RE NEVER TOO OLD
GUN SEPTUAGENARIANS COMBINE TO SPREAD SOME STARDUST WITH SUCCESS AT MELTON WITH SMART MARE
Shepparton News
25 Jun 2021
By Gus Underwood
Picture: AAP
Trial form: A pacer named Barnaby, trained by Steve O'Donoghue and Bec Bartley, trialled at Shepparton last night, let's hope he was a bit more interested in proceedings than his namesake Deputy Prime Minister Barnaby Joyce was in parliament yesterday.
Read more >
SANTA KEEPS DELIVERING THE GOODS
JACK-TRAINED PACER MAKES IT THREE ON TROT AT MELTON AND TONIGHT ATTEMPTS TO MAKE IT FOUR
Shepparton News
18 Jun 2021
By Gus Underwood
Shepparton-trained pacer Santa Casa Beach completed a hat-trick of Melton wins on Saturday night to continue his unbeaten return to racing.
Read more >
An emotional roller coaster
TURNBULLS HAVE A MASSIVE DAY WINNING WAGGA CUP AND OAKS, BUT THEN LOSE FATHER-GRANDFATHER
Shepparton News
28 May 2021
By Gus Underwood
Last weekend was a sweet-bitter experience for Tatura trainer Craig Turnbull.
Turnbull f loated two horses to the Wagga Cup meeting and hit the jackpot twice in two of the feature events.
In successive races he claimed the $20,000 Wagga Pacers Cup with Jemsoms Pet and the $12,000 Wagga Oaks with Heritage Lady.
Read more >
PINK DAY AT TROTS A BOTTLER
Shepparton News
28 May 2021
Trotting: Pony trots dressed in pink for breast cancer awareness.
A successful day was had at Shepparton Harness Racing Club on Sunday, with organisers of the Pacing for Pink event expecting more than $50,000 will be raised for the McGrath Foundation.
Co-organiser Donna Castles, from Ardmona, said everyone who attended had a great day out with about 240 people attending the breast cancer fundraising lunch on top of the those involved in the racing card. "The day was amazing," Castles said. "I can't believe the support we got from the people that turned up.
"We had the racing, the pony trots and it was a real carnival atmosphere and the weather was perfect."
With the result of a silent auction to come, Castles said she was overwhelmed by the support.
"Thanks everyone in the whole harness industry, the Shepp harness club for letting us hold the event there and everyone who helped out — it was just amazing."
As part of the lunch, candles were lit as a reminder of hope and support for those who are battling breast cancer or have lost a family member or friend to the disease.
Read more >
AIKEN WINS GROUP THREE WITH CRESCENT
AIKEN-TRAINED MARE DOES IT TOUGH WAY, BUT PROVES TOO GOOD IN WINNING LA COOCARACHA FEATURE
Shepparton News
7 May 2021
By Gus Underwood
Going for gold: Harston trainer Dennis Paton and his wife Shirley, pictured with their Group One winner Sheza Pleasure, will be chasing more Group One glory with Jessies Son in the $50,000 Home Grown Classic for two-year-old trotting colts and geldings at Melton tomorrow night.
Read more >
DISTRICT TRAINERS CHASE BIG DOLLARS
DISTRICT TRAINERS WILL BE CHASING SUCCESS IN RICH RACES AT MELTON AND MENANGLE TOMORROW
Shepparton News
30 Apr 2021
By Gus Underwood
In with a shot: Trainer Patrick Ryan (left) and Starsbythebeach, pictured with her owner Martin Riseley and his son
Read more >
Going like a Bullion at a gate
JACK-TRAINED CAPTAINS QUEEN IMPRESSES IN HEAT WIN AS SHE CHARGES TOWARDS BIG BUCKS
Shepparton News
16 Apr 2021
By Gus Underwood
Picture: Stuart McCormick
Three in the pocket: David Moran, pictured winning on Lochinvar Art, drove three winners at Shepparton on Friday.
Read more >
Pepper is devil's advocate
WILSON HAS CRACKED THE CODE WITH SHADOW PLAY MARE WITH SIX PLAYING PROMINENT ROLE
Shepparton News
9 Apr 2021
By Gus Underwood
Picture: Geoff Durn
Thrilling final: The Shane Pangrazio-trained Payup Orleave crosses the finish line first to take out the Eureka Series Final at Echuca on Sunday.
Read more >
JACK HAS BIG GOLD STRIKE AT BATHURST
LONG TRIP TO BATHURST WELL WORTH IT FOR JACK AS HE GOES ONE-TWO WITH FILLIES IN GROUP ONE
Shepparton News
2 Apr 2021
By Gus Underwood
Family affair: Castle Retreat with trainer Stephen Boyington (left) and owners Andrew Boyington, Thomas Crosbie, Craig Scouler, Michael Boyington, James McBain, Colleen Boyington (with Elke Hiscock), Rowan Hiscock and Simon Marshall.
Read more >
MORAN A BIG CHANCE TO WIN NSW DERBY
WHILE LOCHINVAR ART WON'T CONTEST MIRACLE MILE SHEPPARTON TRAINER HAS ANOTHER BIG CHANCE
Shepparton News
5 Mar 2021
By Gus Underwood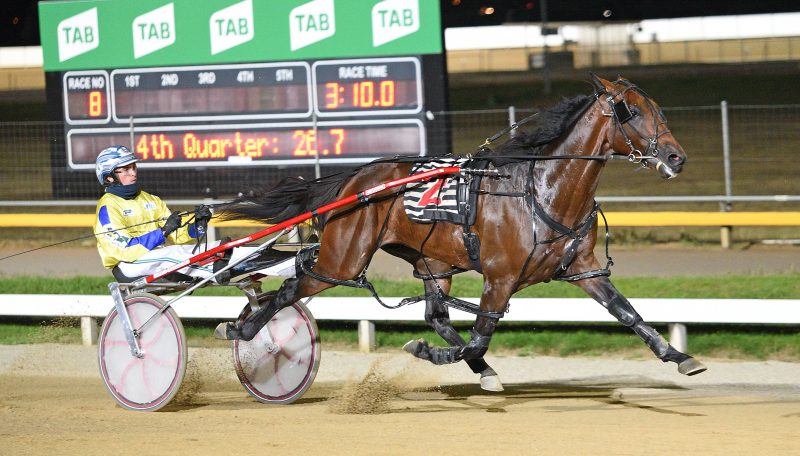 The disappointment of having to withdraw Lochinvar Art from Saturday night's Miracle Mile at Menangle could be temporarily forgotten at the meeting by Shepparton horseman David Moran.
Read more >
MIRACLE IS MUCH-NEEDED TO MAKE MILE
SHEPPARTON-TRAINED PACERS NEED RACING GODS TO SMILE DOWN ON THEM TO MAKE MILE AT MENANGLE
Shepparton News
26 Feb 2021
By Gus Underwood
Shepparton horseman David Moran is not confident his superstar pacer Lochinvar Art will get the chance to be included in the $1 million Miracle Mile field.
Read more >
SHEPPARTON PACERS TACKLE NEWCASTLE
SMART O'DONOGHUE-BARTLEY-TRAINED PACER LINES UP IN NEWCASTLE MILE ALONGSIDE SUPERSTAR ARTY
Shepparton News
19 Feb 2021
By Gus Underwood
Picking up where she left off: Allwoods Sunbeam secured a 10th win after snaring eight last season alone.
Lochinvar Art isn't the only Shepparton-trained pacer contesting tonight's Newcastle Mile at Newcastle.
Read more >
Buying champion a breeze
BEAUTY IS IN EYE OF THE BEHOLDER AND OWNER IS HAPPY MORAN LIKED WHAT HE SAW AT MENANGLE SALE
Shepparton News
12 Feb 2021
By Gus Underwood
Starlight, star bright: Starlight Red put in a stellar performance at Shepparton.
Read more >
ARTY READY TO CAPTURE HUNTER CUP
MORAN NOT CONCERNED ABOUT BARRIER WITH SUPERSTAR AS HE STRIVES TO ADD HUNTER CUP TO RESUME
Shepparton News
5 Feb 2021
By Gus Underwood
In the mix: Josh Aiken aboard Honolua Bay.
Read more >
Tale of two cups is unique
THERE'S A LITTLE BIT OF IRONY SURROUNDING THE ONLY HOMETOWN SHEPPARTON CUP WINNERS
Shepparton News
22 Jan 2021
By Gus Underwood
Glory days: Heath Redwood gives Unique Icon a kiss after winning the 2002 Shepparton Gold Cup.
There is a touch of irony associated with the only two Shepparton trainers to produce a hometown cup winner.
Read more >
Making pretty good fist of it
THOMSON ENJOYING CONSISTENT SUCCESS AFTER ADDED INJURED FATHER'S HORSES TO HIS BARN
Shepparton News
15 Jan 2021
By Gus Underwood
Picture: Geoffrey Durn
Fitting name for cup winner: Perfect Stride, co-trained by Anthony Butt and Sonia Smith, claimed a thrilling Jim Phillips Memorial Cobram Cup on Sunday.
Kyabram horseman Brent Thomson has been enjoying his share of success after taking over the training reins from his father Russ nine weeks ago.
Russ suffered multiple rib fractures in a training mishap in early November and Brent was summoned to add his father's horses to his small team as well as juggling his day job with the State Rivers.
Read more >
BOUND FOR GLORY
GOULBURN VALLEY TRAINERS AND DRIVERS CHASE GROUP ONE GLORY TO FINISH YEAR ON A HIGH
Shepparton News
31 Dec 2020
By Gus Underwood
Out for glory: Lochinvar Art and trainer David Moran will be out to claim Vicbred Super Series Group One finals glory at Melton on Thursday.
Superstar Shepparton pacer Lochinvar Art will lead a charge of northern Victorian-trained pacers and trotters chasing Vicbred Super Series Group One finals glory at Melton tonight.
Read more >
Racing
Read more >
DRIVERS, OWNERS ARE WEARING CROWNS
DISTRICT DRIVERS AND OWNERS CELEBRATE MEMORABLE BREEDERS CROWN VICTORIES AT MELTON
Shepparton News
27 Nov 2020
By Gus Underwood
Picture: Claire Weston Photography
Fair run of form: Majic Fair wins at Cobram earlier this month — she has since duplicated the effort.
Northern Victorian trainers missed out, but drivers and owners from the area shared in some rich spoils in finals of the Breeders Crown series last weekend.
Read more >